Powered by pyaoaddons & albion online addons
Albion Online Stats
Albion online stats is an extension to MMORPG game - Albion Online. It tracks network traffic and displays various statistics, such as damage and DPS meter calculated from in-game actions.
App preview
Youtube live preview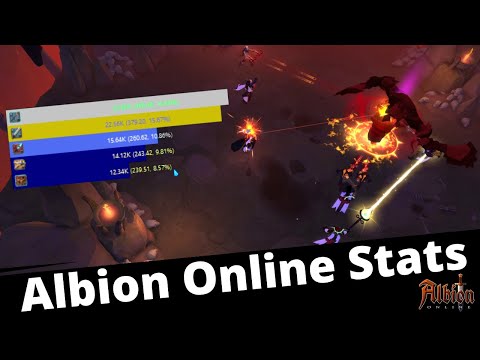 How to use this app
Note this section does not require any coding knowledge. Those simple two steps are required to use this software :)
Installation
On windows make sure that WinPcap is installed in your system. Npcap 0.9983 installer for Windows Vista/2008, 7/2008R2, 8/2012, 8.1/2012R2, 10/2016 (x86 and x64) Make sure to install with the "Install Npcap in WinPcap API-compatible Mode"
Install python all platforms installation instructions or via Microsoft Store.
Download latest launcher from https://github.com/mazurwiktor/albion-online-stats/releases/latest (albion-online-stats.bat for windows albion-online-stats.sh for linux and mac)
Enjoy :)
Configuration
After first execution the app is going to create default configuration file named albion-online-stats.cfg. Feel free to edit it according to your needs.
Is This Allowed
Only monitors your own party
Does not modify our game client
Does not track players that are not within the player's view
Does not have an overlay to the game
Note this traits of the application are true from version 0.9.0+.
Donate
Getting started
Prerequisites
All platforms
Clone repository:

git clone https://github.com/mazurwiktor/albion-online-stats.git


[optional] Create and activate python virtualenv

python -m venv env
[linux/mac] . env/bin/activate
[windows powershell] .\env\Scripts\activate.ps1
[windows cmd.exe] .\env\Scripts\activate.bat

Install package

python setup.py install


Run the application

aostats

Contribution
Check out wiki page
License
Licensed under either of
at your option.