JS Diary
📌 In browser interactive coding environment for JavaScript developers. Write JS code, execute it and yes, write documentation using markdown!
Install
npm

 i js-diary

Usage
npx

 js-diary serve

Run this command and navigate to https://localhost:4050
Now you have a live code editor running in your browser 🎉
Features
Live code execution
Auto code formatting
Write comprehensive documentation using markdown
Use NPM packages without installing them on your local machine
Run JSX in browser
Usecase
Useful for small code snippets and trying NPM packages
How To Use
On starting the application you will see two options - Code and Text.
The code in each code editor is all joined together in one file. For eg: If you define a variable in one cell you can refer it in any of the following cells.
You can show any string, number, etc. and even React components by calling the display function.

Note: display function is a function built in this environment. Call display multiple times to display multiple values.

You can delete cells or re-order them (move up or down) using buttons on the top right corner.
To add new cells, hover on the divider between each cell.
The code cells and text cells are resizable.
Example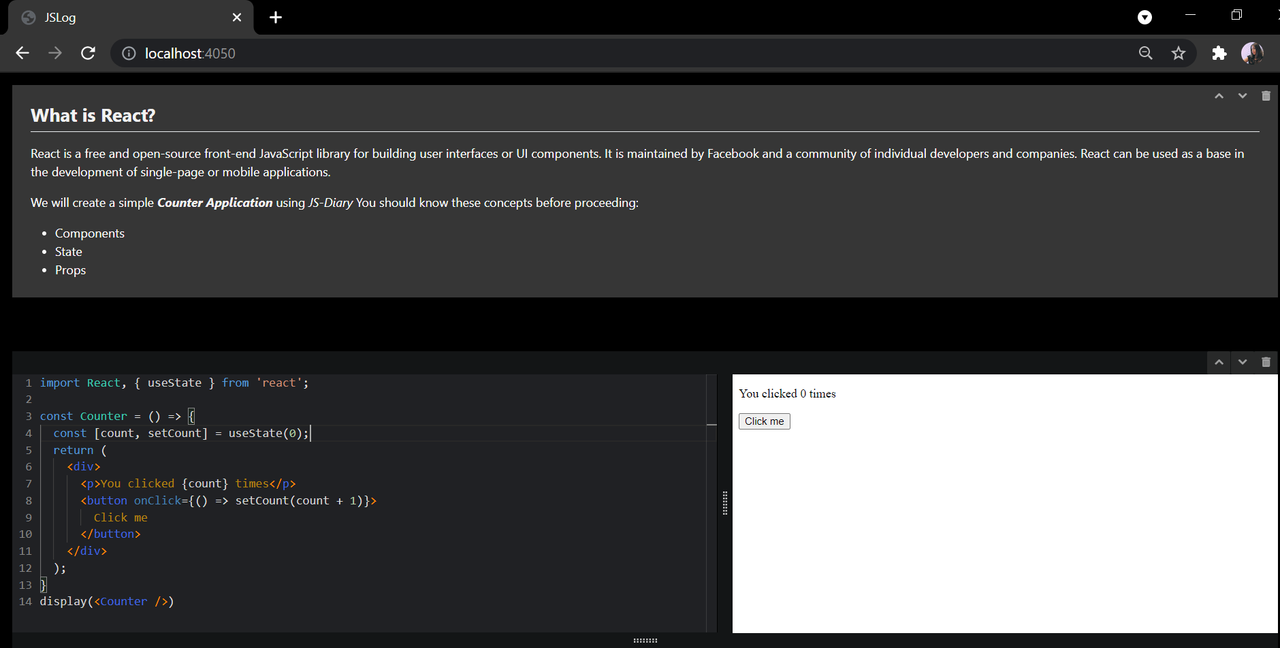 All of your changes get saved to a file you opened js-diary with. If you run npx js-diary serve notebook.js then all your code and text will be saved to a file named notebook.js
By default, the name of the file is notes.js
Currently the file gets saved in JSON format ( Working on saving it in JS Format in future release )
Issues
Raise an Issue if you find any bugs/got ideas.
Thanks for reading! ⭐ Dont forget to star the Repository ⭐